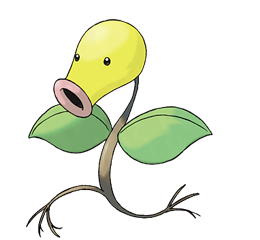 Bellsprout is a Grass/Poison pokemon introduced in Generation I. It evolves into Weepinbell at level 21, and later Victreebel through the use of a Leaf Stone.
Flashpikachu Edit
Eliminated for being a brat to the other campers.
Freinds
No one
Enemy
All of his team
Places

TPI:Last

TPA:N/A

TPWT:TBA

Team
Screaming Diglett
GardevoirIsAwesome

Bellsprout was Beth in the series, although Bellsprout was a guy. In the dodgeball episode he evolved into Weepinbell and when TPA started he evolved into Victreebel.