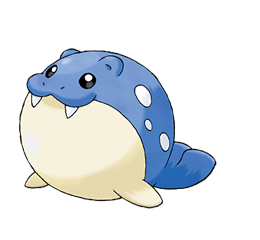 Spheal is an Ice/Water-type Pokémon introduced in Generation IV. It evolves into Sealeo, starting at level 32, which evolves into Walrein, starting at level 44.
Spheal is a camper in this TPI.
Nickinor2
Edit
One of the original 26 campers of Nicki's TPI, Spheal was considered a goofball like Lickitung and found love in Chinchou and evolved into Sealeo before season 1 concluded.
Ranks:
TPI: 27th
Spheal has been used as a camper in the TPI series by Yoshiboy19, Spheal has been also used by Yoshiboy19 in the Reality PokeMole series. He was never successful, getting only 13th Place in Season 1, and 12th in S2